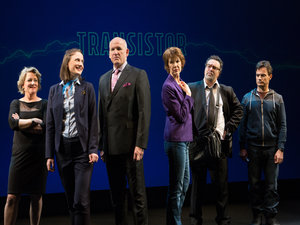 If it can be done it will be done.
Following the death of a billionaire tech visionary, powerful figures are summoned from different parts of the globe to a budget airport hotel for the reading of his will. As beneficiaries, they know their lives are about to change. What transpires is nothing short of a massive paradigm shift in technology and the very nature of human mortality.
Visionary and award-winning director, Richard Rose, turns a giant screen and a six person cast into something resembling a TED Talk on acid. His bleeding edge staging brings to life musically rapid fire dialogue, superbly crafted plot twists, and a driving story that leaps back and forth in time as fast as swiping your finger across a screen.
A playwright with an epic voice that is in equal turns tragic and hilarious, the Dora nominated Filippo spins a twisted yarn about the history of personal computing, the suppression of women in the tech world, the inevitable direction of progress, and the challenge technology poses to human connection.
With a shocking finale that leaves some stunned and others cheering in their seats, The Summoned articulately captures how monumentally technology is changing our very nature. It is impossible to walk away from this show not talking about it.